Dramas Asuncionistas ingleses del siglo XV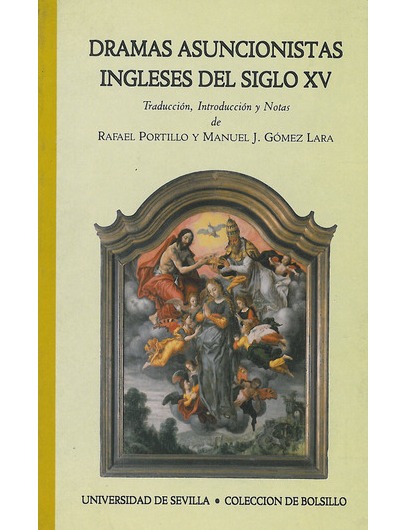 CONDICIONES DE ADQUISICIÓN DE LIBROS EN FORMATO ELECTRÓNICO
Está prohibida la duplicación o transmisión total o parcial del contenido del libro a través de cualquier medio digital, incluidos escaneos, capturas, transmisión electrónica o por cualquier otro medio y conversión en audiolibro del mismo.

Se utiliza un DRM social o blando de marca de agua, incrustándose digitalmente en el e-book o PDF de forma aleatoria el número de cliente, correo electrónico del usuario, dirección IP y fecha de la descarga.
Author/s:
Gómez Lara, Manuel José
Portillo García, Rafael


Edición digital de la primera edición impresa de 1995

La edición de Dramas asuncionistas ingleses del siglo XV representa el primer intento de editar y traducir al español varios dramas medievales ingleses en España.
La mayoría de los países europeos parecen haber producido y escenificado numerosas piezas teatrales de tema religioso durante toda la baja edad media, aunque solamente se haya conservado una cantidad relativamente pequeña de las mismas. Sin embargo el corpus de las obras medievales inglesas del que se dispone es sorprendentemente grande, ya que en varios manuscritos se ha conservado un número muy considerable de piezas que versan sobre la historia cristiana de la salvación. De entre las piezas conservadas, destacan las dedicadas a la muerte, asunción y coronación de la Virgen María, debido a su complejidad y su deuda para con varias fuentes apócrifas muy conocidas, especialmente la denominada Legenda Aurea.
Los lectores de habla hispana encontrarán en este volumen una traducción editada de cinco piezas breves que proceden del manuscrito de York, y además una pieza más extensa procedente del manuscrito de N-Town. Todas las obras se compusieron y fueron redactadas por autores anónimos a finales del siglo XV, y todas ellas dan testimonio del rico legado dramático y teatral de la Inglaterra medieval.


The edition of Dramas Asuncionistas ingleses del siglo XV ("English 15th-century Assumption Dramas") is the first attempt at editing and translating several medieval English dramas into Spanish, in Spain.
Most European countries seem to have produced and staged numerous religious plays throughout the late Middle Ages, although only a comparatively low amount of those pieces have been preserved. The extant corpus of medieval English plays is however surprisingly large, for a considerable amount of dramas that deal with the Christian history of salvation have come down to us in various manuscripts. Among the extant plays, those dealing with the episodes of the death, assumption and coronation of the Virgin Mary stand out for their complexity and their debt to several well-known apocryphal sources, especially the so-called Legenda Aurea.
Spanish-speaking readers will find in this volume an edited translation of five short plays taken from the York manuscript, and also a longer, more complex drama from the N-Town manuscript. All plays were composed and written down by anonymous authors in the late 15th century, and all of them bear witness to the rich drama and theatre legacy of medieval England.
Especificaciones técnicas